International standards:
ISO 9001: 2017, Quality management
ISO 14001: 2017, Environmental management
ISO 27001: 2021, Information security management
Certification Body: BSI Group Japan K.K.
Certification Authority: ANAB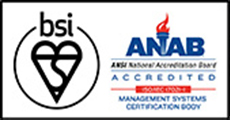 Quality management
We always take on new challenges in order to exceed our customers' expectations.
We comply with company regulations (including QC process diagrams, delivery specifications and work standards), customer commitments and domestic and foreign laws and regulations, and always supply stable products.
We are a socially responsible company that carefully listen to the suggestions of our customers and always strive for improvement.
Environmental management
We comply with national and international laws, agreements and voluntary standards.
We continuously implement education and training to deepen employees' knowledge and understanding of global environmental protection practises.
By establishing a system for the management of chemical substances in products, to produce products free of regulated chemical substances.
Information security management
In order to protect information assets, we formulate an information security policy and related regulations, conduct business in accordance with this policy and comply with laws, regulations and other norms related to information security, as well as with the terms of our contracts with customers.
We clarify the criteria for analysing and assessing the risk of leakage, damage, loss, etc. of information assets, establish systematic risk assessment methods and conduct regular risk assessments. Based on the results, necessary and appropriate security measures are implemented.
We establish an information security system led by a director in charge and clarify the authority and responsibility for information security.
In addition, all employees are regularly educated, trained and enlightened to ensure that they are aware of the importance of information security and handle information assets in an appropriate manner.
Regular checks and audits are carried out in compliance with the information security policy and the handling of information assets, and corrective measures are promptly taken for any deficiencies found or improvements needed.
Appropriate measures are taken against information security events and incidents, and in the event of such incidents, procedures are established in advance to minimise damage, and in the event of an emergency, we respond promptly and take appropriate corrective measures. In addition, we ensure the continuity of our business by establishing a framework for the management of incidents, especially those that may lead to business interruption, and by regularly reviewing the framework.
We establish and implement an information security management system that sets out objectives to realise our basic principles, which shall be reviewed and improved on an ongoing basis.
Domestic certificatiom:
Green Partner of SONY
Business Continuity Strengthening Plan
Green Partner of SONY
Under the Green Partner Environmental Quality Certification System set up by Sony Corporation, the Tokyo Factory was certified as a Green Partner under Sony Corporation's Green Partner Environmental Quality Certification System.
Factory Code:FC015216
Certificated Date:2022/1/11
Green Procurement
https://www.sony.com/en/SonyInfo/procurementinfo/green.html
Business Continuity Strengthening Plan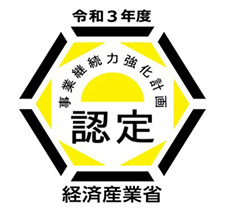 ---
Sustainable Development Goals (SDGs)
Contribution to promoting sustained, inclusive and sustainable economic growth, decent work of corporates.
Environment

Contribution to reducing electricity and gas consumption and CO2 emissions as a result of improved productivity and quality.
Contribution to the reduction of microplastics through the development and supply of biodegradable products.
Contribution to the reduction of CO2 emissions through the use of recycled materials.
Contribution to the reduction of CO2 emissions through regular external donation of factory shoes.
Establishment of an awareness-raising system through regular monitoring of electricity, gas, water, and paper consumption.
Establishment of an awareness-raising system, including purchasing appropriate quantities through 5S activities.
Human capital

Contribution to securing a better work life balance.
Introduction of maternity and parental leave for employees and shorter working hours.
Special leave granted for coronavirus vaccinations.
Grant of qualification fees
Employment of foreign employees.
Contribution to local communities through employment of persons with disabilities.
Contribution to the local communities through employment of the elderly.